Are you considering a garage makeover and looking for ideas?
If your Garage is full of everything (except your car), we think it might be time to consider a garage overhaul. A garage should not be used as a dumping ground for whatever doesn't fit inside your house.
We recommend installing garage cabinets and storage systems for an instant organization that will help get your garage back in order. There are several reasons why you should add garage cabinets and storage systems to your garage makeover project.
If you're looking for a done-for-you garage storage solution, reach out to us on 1800 517 294. Or contact us here. We're Australias best garage storage solution providers!
Speak to us if you're looking for premium garage storage solutions in Australia.
1. Everyone loves an organised garage
One of the apparent benefits of garage cabinets and garage storage systems is that they make it much easier to keep your garage organized – all the time. When your tools, beach chairs, and sports gear are neatly stored in garage cabinet systems, it makes life much easier for you and your family.
2. Reduce garage clutter + keep clutter at bay 
No one likes clutter. Effective garage storage systems and cabinets provide a home for everything and help prevent clutter from accumulating. If you have a big family, garage storage systems give each family member a designated drop-zone (that's not the floor).
3. Improve garage accessibility 
Use garage cabinets and storage systems to maximize Storage space and improve accessibility. Have everything properly stored away so you and your family can get in and out of your garage, safely.
4. It's an investment that will add value to your property 
Garage cabinets and storage systems can add a substantial aesthetic upgrade to your garage's interior. A garage that's organized and easy to maintain is a strong selling point for any buyer – especially if there is plenty of space to park a car. Take advantage of every inch of your garage space!
Cabinets Storage Ideas for Garages
Get your garage organized with custom cabinetry! Do I need a garage cabinet system?
Many homeowners might think a garage cabinet system isn't for them. Perhaps you don't spend enough free time in the Garage to believe such a purchase would be worth it. You might be under the impression that storage cabinetry is meant solely for garages that are owned by those with a big tool collection who love working with their hands. While a garage cabinet system is ideal for garages where vehicle maintenance and carpentry projects occur regularly, the fact is that every garage can benefit from having one.
Here are seven common-sense reasons to consider a garage cabinet system for your home, regardless of how handy you are with a hammer.
A garage cabinet system eliminates clutter
One of the obvious benefits of having a cabinet system installed in your garage is that it will significantly cut down on your floor clutter. Even if you have a larger two or three-car garage and available Storage space isn't a pressing concern, that garage floor clutter can still be a persistent nuisance. Whether you're tripping over clutter or finding it hard to locate tools when they're needed, there's practicality to removing things from your garage floor and keeping them neatly stored in a garage cabinet system.
When cabinetry is partnered with some of those garage storage systems mentioned before, like Slatwall panels, you'll be amazed at how much nicer your garage looks and feels when it's clutter-free. At Garage Smart Solutions, we offer custom garage cabinets and storage systems. Our custom garage cabinet installations are top-quality, durable, and customized to fit your needs and budget. When you work with Garage Smart, we will ensure there is no wasted time searching for your tools, and we will be sure to utilize every square inch of your space. Our custom cabinets are built to last and designed to impress! 
If you're looking for a done-for-you garage storage solution, reach out to us on 1800 517 294. Or contact us here. We're Australias best garage storage solution providers!
Essential Factors to Consider When Buying Garage Cabinets
If floor clutter is limiting your garage's functionality, one of the most effective solutions to get your space organized is by adding garage cabinets. But there are so many brands and types of garage cabinets available. For starters, you'll need to know that they come in these two types:
Custom-fit – the cabinets can be built to custom depths, widths, and heights and more specialty options are available
Modular – a cabinet system built from pre-made standalone units that are mixed and matched
How do you make the right choice to fit your needs? There are a few essential factors to consider when deciding what type of garage cabinets you should buy.
Before taking the next step and speaking with a trusted garage professional about your storage cabinet choices, get familiar with the basic facts about garage cabinets and what you should look for. Consider these five critical factors to help you make the best decision.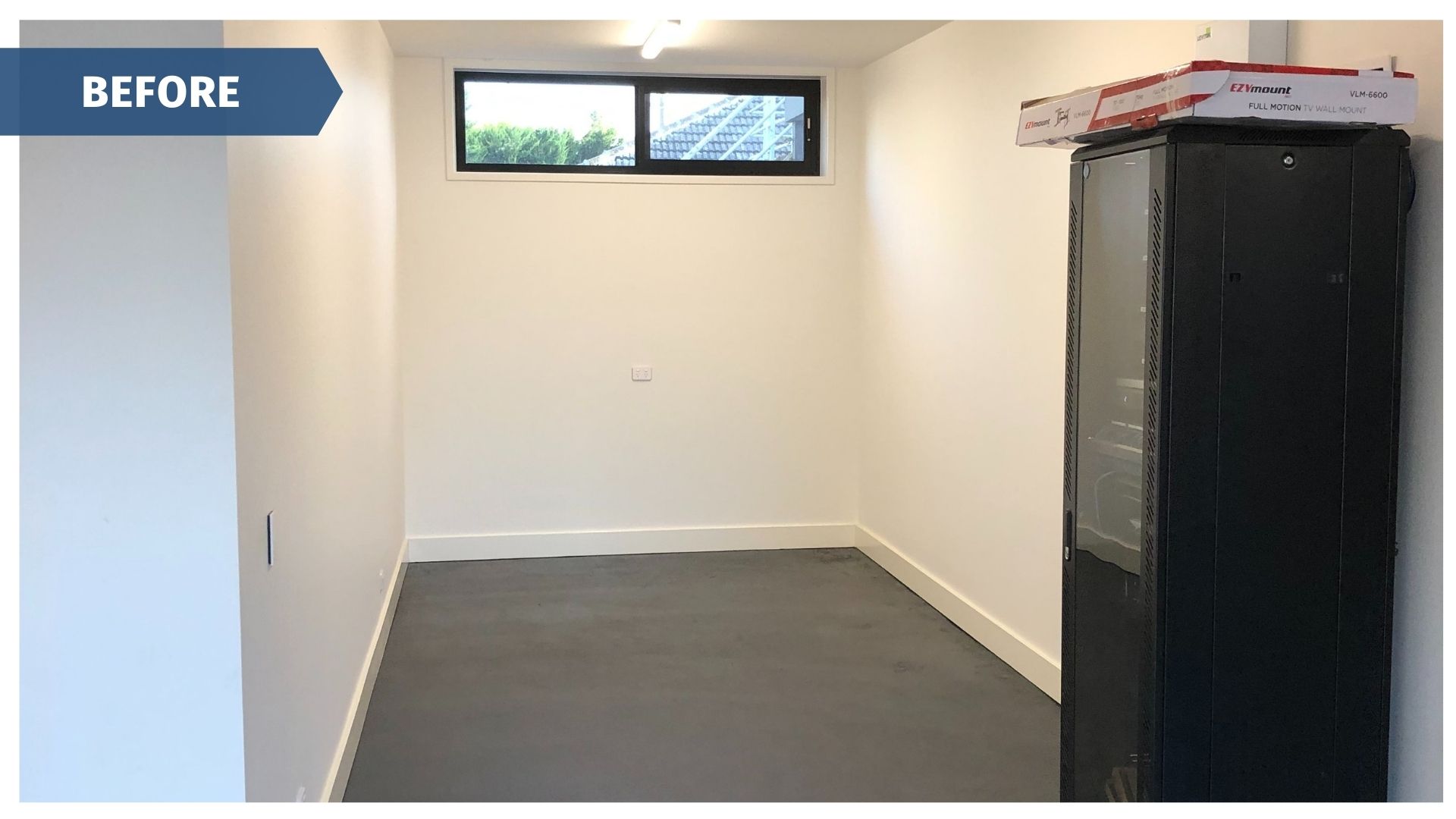 What's your budget for buying garage cabinets?
You'll need to work within your available budget to determine what type and quality of garage cabinets you'll buy. Just remember that age-old saying – "you get what you pay for."
Buying an inexpensive garage cabinet system from a big box store may be quite tempting if your budget is limited. Just be aware that many of these cabinet systems compromise significantly on the quality of the cabinets' construction materials. Typically, they'll be made from plastic or inferior quality steel to achieve that low price. Cheaper garage cabinets can leave a lot to be desired when it comes to functionality and durability. Do you want to be replacing your garage cabinet system in just a few years when it starts falling apart? At that point, you'll know that it pays to spend a little more to get a higher quality product that lasts longer.
Expanding your budget for new garage cabinetry will open up a more extensive range of higher-quality options. The construction materials and craftsmanship will be at a higher grade, and they'll likely look better (don't underestimate the value of garage cabinet aesthetics). Cheaper garage cabinet systems also don't offer the chance for customization. You'll have limited choices for colours, styles, and extra custom features, like adding a countertop to the top of your base cabinets to create a workbench.
Garage cabinet usage
Knowing how your garage cabinets will be used within your space will be a significant factor in what type of cabinet system you end up buying. For example, take a homeowner who's looking for a general-purpose cabinet system that's primarily needed for extra Storage space. Higher-end garage cabinets, such as our custom-fit GL Custom Steel cabinets, probably aren't the right fit for their needs. Perhaps either the modular GL Signature or GL Premium cabinet systems will work better for them. They still deliver exceptional quality but do come with fewer custom options.
The amount of space you have to work with will also be a factor when making your cabinet choice. If your garage layout has unconventional angles or wall obstructions, a custom-fit system will be easier to fit within the space. And if your garage space is limited, something like the shallow depth option available with the GL Signature line might be ideal. This can allow you to comfortably get in and out of your vehicles with enough space. Are you looking to create a garage space that lets you park vehicles and use it as a heavy-duty workshop? In that case, something like the more rugged GL Hayley or GL NEOS Elite cabinet systems are a more practical choice.
What's being stored in your garage cabinets?
What you'll be storing in your Garage cabinets will also play a role in your buying decision. Certain items are more suited to being stored in a specific type of cabinets, so you'll need to choose accordingly.
For example, choosing a cabinet system that gives you an option for locks on the doors and drawers might be wise if:
You want to keep the expensive hand and power tools secure
Your garage has a lot of sharp tools you want to keep your kids safe from
There are a lot of chemicals and hazardous materials kept in your garage
The weight of the items you're storing also needs to be taken into consideration. If you're storing heavy power tools or car parts, a flimsy cabinet system made from plastic just won't cut it. You'll need something sturdier, like a garage cabinet system made from 18-gauge or even stronger 16-gauge steel. Maybe you plan to use your garage cabinets for storing longer items, such as coveralls, or you want to keep your vast collection of cleaning supplies all in one cabinet. If so, your cabinet system design will include one or more tall locker cabinets. For those who have a lot of tools to store, an ample number of tool drawers to keep everything organized will be a priority for their cabinet system. Bins for storing all those easy-to-lose screws, nuts, and bolts would also be a smart addition.
How vital are construction materials, durability, and looks to you?
The types of materials used in your cabinet system's construction will be the most significant factor that determines how long it lasts. Construction materials and craftsmanship will also affect how your cabinet system functions. For instance, how smoothly do the cabinet doors and drawers open and close? Don't skimp on the quality of materials that were used to build your cabinets. Steel is your best option, but be wary of where that steel is from. Foreign-made steel is commonly heavily recycled, rusts quicker, and isn't as resilient as the higher quality North American-manufactured steel Garage Smart uses in all of our garage cabinets.
The harsh demands of a garage environment should also be taken into consideration with your garage cabinets. This includes changes in temperature, moisture, and everyday wear and tear. To prolong the life of your cabinetry, look for models with a powder-coated finish. Powder coating involves the application of multiple layers of a dry powder to the surface of the cabinets. This helps protect against scuffs, scratches, and rust.
Check out garage shelving
Customization with your garage cabinets
If creating a personalized garage space ranks high on your list of priorities when it comes to a garage makeover, custom cabinets are a must. The ability to customize your garage cabinets gives you significant flexibility to truly create a dream cabinet system. Custom-fit cabinetry also makes the most of your available space. Underutilized corners can become more useful with the addition of custom cabinetry. If you have a free wall in your garage that's unfinished, have a seamless wall-to-wall cabinet system designed. That can take care of your storage needs and provide a more finished look for your garage interior. Custom cabinetry can also be designed to accommodate best the manner in which you'll be using your garage cabinets. If you're a hobbyist, the upper and lower cabinets around your heavily used countertop area can be designed to store your most frequently used tools and items. That way, they're always conveniently close at hand.
If you're looking for a done-for-you garage storage solution, reach out to us on 1800 517 294. Or contact us here. We're Australias best garage storage solution providers!
Here are just a few of the specialty options that can be included with custom garage cabinets:
Numerous colour options
Sink units
Power bars with USB charging ports
Backsplash
Pot lighting and valance lighting
TV cabinet enclosure
Utility drawers with organizing bins
Dedicated space for hiding garbage and recycling bins
Why Custom Garage Cabinets Should Be Part of Your Garage Makeover?
A well-designed garage makeover project focuses on making the garage beautiful and functional. Your garage space should be an extension of your home's architecture, design, décor, and lifestyle. For several reasons, custom garage cabinets should be an essential component of your garage makeover project. With a fusion of passion, innovation, creativity, and expertise, Garage Smart's metal cabinets offer superior craftsmanship, materials, options, and looks to satisfy any homeowner's wish to create a personalized custom garage space. Custom garage cabinets are designed to fit your garage space perfectly.
There are commonly two types of garage storage cabinets:
Modular – individual prebuilt/prefabricated cabinet units that don't allow for custom sizing

Custom-fit – offers more design flexibility because the cabinet units can be custom-built to a specific height, width, and depth
A custom-fit garage cabinet system gives Garage Smart's designers extensive flexibility to customize the cabinets to our clients' exact garage space requirements. This custom-fit precision makes optimal use of your garage's space. Choose from a wide range of specialty options for your custom garage cabinets.
Add more Storage space with custom garage cabinets and stay organized. One of the apparent benefits of garage cabinets is that they make it much easier to keep your garage organized. Along with garage organization solutions like Slatwall and specialty storage racks, cabinets add extra storage space that's maximized. Your tools and other belongings will be kept organized and choosing the drawer lock option will keep them secure.
Custom garage cabinets provide a high-end garage look and workspace functionality
For a high-end look and the ability to use your garage as a productive workspace, custom garage cabinets are your best option. 
THE WOW FACTOR TO YOUR GARAGE
Our shelving will get everything up and out of the way, and a beautiful floor will transform your Garage from a concrete storage unit into a beautiful living space. Our garage flooring options will enhance the attractiveness of your garage while also making the floor easier to clean and maintain.Garage Smart, we specialize in installing high-performance floor coatings for residential concrete garages. The epoxy garage floor coatings are all commercial grade, that not only modernizes your garage floor but also increases resiliency. 
Crack Repair
We grind and fill all the cracks in your floor, giving dirt no place to hide.
Stem Walls And Stairs
Our floor coatings can be applied to stem walls and stairs, giving your garage a truly finished look.
Colour Options
We have hundreds of colour combos available so you can pick a unique hue to match your cars or cabinets.
Easy Drainage
RibTrax garage floor tiles allow dirt and liquids to pass through, creating a non-slippery surface.
Hooks Shelves & Baskets
Shelving, overhead racks, and a Slatwall hanging storage system will help immeasurably when it comes to keeping a garage organized.Effective garage storage systems that provide a home for everything prevent clutter from accumulating. They also make it easier to keep a garage space tidy with less effort. With so many choices available when it comes to upgrading your garage's storage capabilities, there's one option you might be overlooking – a garage cabinet system.
Adjustable Wall Shelves
Our adjustable shelves can be mounted almost anywhere in the garage and don't require hooks to store items.
Ball Bag
No more tripping over a loose soccer ball or football. The ball bag creates a convenient and easily accessible area for all types of sports balls.
Wire Basket
Everyone has a few odds and ends that don't go anywhere. With the Wire Basket, these items now have a home and are easy to grab and go. The Bucket Rack takes the concept of the basket even further. Using buckets to organize things like golf balls, spray paint, and muddy shoes are easy and convenient.
Hose & Cord Holder
From extension cords to garden hoses to air hoses, the hose and cord holder keeps things coiled neatly and out of the way.
Wall Starter Kits
Getting started is comfortable with Garage Smart. Branch out and try the accessory kits, which come with hooks to store the items you use the most within easy reach. Looking where to start with garage storage?
So, you've finally decided to do something about the clutter in the garage, but where do you start? Moving things around can only create more clutter. Stacking boxes can mean more hunting and rummage later for items. This is why Garage Smart has created the perfect basic Storage solution to help get you started with Garage Smart.
In only 15 minutes, you will be on your way to a mess-free space, cleared and ready to be used again. It's possible with one of our Starter Kits. If you have a lot of tools or gardening equipment, or even camping gear, then Garage Smart is essential.
In our starter kits, you'll find everything you need in taking your first steps towards a more organised area, even down to the screws (which are weather-proof and won't rust!).
You can also go for one of the Accessory Starter Kits available. Accessory Starter Kit 1 comes with a 46cm wire basket, two tool hooks, a deep latch, and a utility hook. If you want a more solid option, consider getting Accessory Starter Kit 2. This kit comes with one mesh basket, a deep latch, two big hooks, one utility hook, two twin hooks, one wide hook, one scoop hook, 1 J&L pack with eight hooks, and one small item bin pack with six bins.
Still not enough?
Find yourself needing even more? There are lots of optional accessories to choose from as well, such as baskets, shelves, or even a clean-up caddy to hold your cleaning products and paper towels. By utilising the space on the walls, you free up space on the ground, preventing tripping hazards and creating a more significant area to work in. The Garage Smart Starter Kits help you do just that! Plus, you will find everything you need with ease! No more dreading trying to find the gardening tools. Instead, keep them in one convenient and easy to see location.
Garage Smart Solutions create superior storage systems that are built with the modern look in mind. Our goal is to liberate you from clutter and mess and let you enjoy these spaces again. Our storage products are unique and stylish, giving your area a new professional look that brightens the room while providing exceptional storing ability. They're also super durable, lasting for years to come. Unlike boxes and some shelving that tends to bend and break over time, our high-quality steel products continue to bring you the ultimate storage solution. Check out the other products Garage Smart Solutions are proud of and get your storage system in place!
Wall Systems –
Reclaim your garage with custom organizing systems!
At Garage Smart, we provide custom garage wall storage systems that will keep your garage neat and organized. Our expert installers will help you get your garage organized with grid systems and Slatwall accessories. All of our home organization options are sure to fit your space, style, and budget.
Slatwall and Accessories
Quality PVC Slatwall provides a space-saving, elegant solution for any organizational task. With so many colours and attachments to choose from, Slatwall proves to be an excellent option for hand tool storage above workbenches, as well as organizing larger items along the walls. Check out garage wall hooks.
Grid Systems Offer A Versatile Storage Option
Powder-coated Grids are an excellent way to organize any garage item. Each 2'x4′ grid allows you the freedom to attach any accessory to any square, creating a custom storage device that can adapt as future needs arise. Un-Snap the hook and relocate it to another square. The possibilities are endless. How Slatwall accessories can make your workspace more functional
Once you know the desired location for your Garage workshop, you can incorporate the Slatwall panels and accessories around it. The following Slatwall accessories are well-suited for keeping any work area organized:
Hooks for hanging hand power tools and extension cords
Magnetic toolbars that keep small hand tools easily accessible
Screwdriver holders
Small tool racks
Paper towel racks
Various sizes of baskets
Shelving, and small tilt-out storage bins for nuts, bolts, screws, and other small pieces of hardware
Garage Cooling Solutions
"Is it hot enough for you?"
No doubt, you've heard that question more than once during this heatwave being experienced throughout most of Australia. For many people living in northern climates with all-too-short summers, they'd rather deal with the heat than the cold and snow. When the temperature gets up to well over 40° C, however, that viewpoint can get seriously tested.
Beat the heat with smart garage cooling solutions
Carrying out your daily tasks becomes rather unpleasant, especially when the humidity level is high. Sweltering days are indeed a problem if you enjoy spending your free time in the garage. Without air conditioning in your garage, its temperature can be as much as 5-10° C warmer than the outside temperature. Whether you like to spend time in the garage exercising, working on vehicles, crafting, or using it as a workshop, it's no fun when oven-like garage temperatures restrict you from enjoying one of your passions. It's time to beat the heat by looking at some smart garage cooling solutions to improve your comfort level.
Why a garage can get so hot?
Before we look at a few garage cooling solutions you should consider, let's analyze the root of the problem. Numerous factors can affect a garage's temperature, including:
location of the garage (garages facing west are exposed to the sun's intense late afternoon heat)

garage colours (darker garage doors and exterior garage colours will conduct heat)
whether your garage has any ventilation system
parking your vehicle in the garage after using it on a hot day
your garage's insulation features
Nine proven garage cooling solutions
Now that you know why a garage can get so warm, use the following Garage cooling solutions to bring that temperature down. Some of these cooling tips require no expense and just a little effort on your part, while others will involve a more significant investment. The bottom line is, each measure you take to make your garage cooler will make a difference, whether it's big or small.
And when your garage gets as hot as a sauna, every little bit you can do helps.
Park your recently used vehicle outside
One of the most straightforward garage cooling solutions we can recommend is something you probably never even considered. Leave your vehicle parked outside after driving it on a hot day if you plan to use the garage after getting home. The heat will radiate from a car long after it's been shut off, which can add a few degrees to your garage's temperature. Just remember to park your vehicles inside when you're done. In addition to being safer, there are many other benefits of using your garage for parking.
Be smart about when you use the garage
Another easy way to make spending time in the garage more bearable when the weather is hot is to choose the most sensible time of the day to be in there. Early morning (up until around 10-11 a.m.) is the best time before the day's temperatures begin to rise. Before going out to exercise or work, you can open your garage doors for a little while to let out trapped heat from the previous day, especially if you have a well-insulated garage. Between about 3-6 p.m. is the least advisable time to be out in your garage on a scorching hot day.
Fans are one of the least expensive garage cooling solutions
A top-to-bottom upgrade of your garage's ventilation system and insulation might cost more than you'd prefer to spend. Using air conditioning in the garage might also be too cost-prohibitive for your liking.
One of the cheapest garage cooling solutions you can use that's still effective is a single oscillating household fan. Pedestal fans, box fans, or (even better) a higher-powered shop fan will get the air in your garage moving. If you have more than one fan, place them at a window or at your open garage door to blow hot air from inside your garage to the outside. Another fan can be aimed towards the area of the garage you'll be occupying to get a bit of a breeze blowing on you.
Note that using fans like this won't make your garage's temperature lower than the outside air. They're merely generating airflow and providing at least a little relief from the heat.
Choose lighter colours for your garage doors and home exterior
You can make the outside of your home generate a little less heat from the sun by choosing brighter colours for your roof and exterior walls. If you have a west-facing garage and plan to use the space for extracurricular activities when the weather is hottest, consider that when buying new garage doors as well. Depending on your home's orientation, choosing lighter garage door colours can help. It may also be wise to choose a garage door design that doesn't include windows or pick windows that minimize how much sun enters the garage. Talk to a Garage Smart garage door expert to see what custom choices are available.
When buying a home, choosing a house location that offers more tree shade for the garage will also pay off when it comes to keeping the space cooler.
Upgrade your garage's ventilation system
A dedicated garage ventilation system, via passive and active methods, employs the fan-driven airflow concept. Passive ventilation is usually installed on the roof and requires little to no energy consumption when dissipating heat from the garage's attic. They're most commonly seen in the form of those spinning turbine roof vents. An active ventilation system is more complicated and pricier, but also more efficient at removing hot air from the garage because it's mechanically powered. This type of ventilation system can be installed on the roof and can also be installed in the garage's walls, preferably opposite the garage door in a high position. Make sure a pro installs any active ventilation system. They can use a lot of electricity, and you don't want to overload your electrical circuits.
Air conditioning is more costly, but also most effective
An air conditioning solution is another more expensive option, but it's also the most effective for bringing Garage temperatures down quickly. If your budget allows, your garage can be fitted for central air conditioning. Other air conditioning garage cooling solutions involve using smaller air conditioning units. If you have a small garage with a window, a window-mounted air conditioner can nicely keep temperatures at a comfortable level while you're in the garage. For larger garages (but not too large), a portable air conditioner with enough BTUs is more ideal. Remember that you'll need outside venting access for this type of unit.
With any of these garage air conditioning options, you'll want to ensure your garage is thoroughly insulated to keep the cold air inside.
Garage insulation is a crucial cooling factor
Most garages lack adequate insulation if they even have any installed at all. This has significant drawbacks if you're using air conditioning in your garage.
Proper insulation will significantly reduce the amount of heat transferred from your garage's exterior to its interior. Insulation will also keep the cold air from your air conditioner from escaping outside. When that happens, your cooling system has to work a lot harder, your hydro bill increases, and it takes longer to lower the garage's temperature.
Consider adding insulation to your garage's walls, ceiling, and garage doors. The type of material your garage door is made of can even be a factor when it comes to insulation. Wood, for example, is a natural insulator.
Effective weatherstripping and silicone caulk for your garage's window and door frames will further improve your garage's ability to stay cool. All of these insulation improvements will help you year-round and lower your heating and cooling bills, as well as increase your home's value.
Maintain a clutter-free garage space
Even cleaning up the clutter in your garage and keeping it more organized can help when it comes to improving the space's airflow. Stacked boxes and bulky items on the floor obstruct proper airflow and can contribute to poor air quality in the garage. Clutter in the garage also limits your ability to use it to its full capabilities.
Adding effective garage Storage systems such as cabinets, Slatwall, and overhead storage racks will go a long way towards allowing you to keep your garage floor clear and tidy, with minimal effort. That will keep the air in your garage, moving a lot easier.
Use a dehumidifier in the garage
If you reside in an area with high humidity, consider a dehumidifier for the garage.
By removing moisture from the air, you should notice a slight difference in temperature, especially with a sound ventilation system in place. A dehumidifier is also helpful year-round in the garage with its condensation-reducing benefits. Get some relief with effective garage cooling solutions. Using these garage cooling solutions will make your time spent in the garage during hot summer days much more comfortable.
GarageSmart Garage Storage Solutions
LED Garage Lighting
If your garage has a single light bulb or a flickering fluorescent light, then it's time for a new light fixture.
Our choice for a garage light fixture is a 4 foot LED light that delivers high quality, uniform lighting. This energy-efficient LED light provides the same light output as 10-60W incandescent bulbs with 90% less energy consumption.
Great Ideas for Garage Lighting
Garages have a bit of a bad reputation as being dark, dingy, and dusty. Unfortunately, this is often the case. On the bright side (no pun intended), this is an easy problem to fix. Indeed, all it takes is a little bit of creative lighting! You might think that there aren't many options as far as garage lighting goes—aside from the traditional incandescent tube lighting, that is—but that idea couldn't be farther from the truth.
With this thought in mind, we at Garage Smart are happy to bring you our round-up of our top 4 ideas for garage lighting.
Hanging Shop Lights
Hanging shop lights are about as standard as you can get when it comes to illuminating your garage, but don't be fooled by their simplicity! Installing just one double or four-bulb fluorescent fixture above your workbench will make a huge difference in brightening up your dimly lit garage.
CFL (Compact Fluorescent Light) Pot Lamps
If you want the illumination of fluorescent bulbs without the blinding effect that tube lighting can sometimes cause, then CFLs are the way to go. Installing CFL pot lamps around the perimeter of your garage will brighten up your workspace without any annoying shadows or glare. They're also incredibly energy efficient, so you won't have to worry about climbing up that ladder to change your bulbs every month.
LED Light Strips
If you're looking for a slightly more modern or funky look, you'll be very interested in our next suggestion: LED light strips. Now, these might not cast as much light as traditional fluorescent bulbs, but unless you use your garage primarily as a workshop, this shouldn't be much of a problem. What's more, aside from their stylish and contemporary look, the average LED light has a lifespan of 50,000 hours. That's almost six years! Talk about low-maintenance.
Philips Hue
Philips Hue describes their lamps as "your wireless lighting." The coolest part? You can create and control light to suit your preferences just by using your smartphone or tablet. Use a more standard setting when you're doing work in your garage, and personalize it to something a bit funkier if you're using it as a "man cave" or a party pad. In the words of Philips, "Hue can help you relax or concentrate, change the atmosphere of a room, help keep your house safe when you're out, and even remind you of that magical moment on vacation. The possibilities are endless".
It also has an unbreakable lens and housing suitable for many wet locations.
Garage Wall Panel Tracks
Expand and organize your space with wall-mounted storage solutions from Garage Smart. With superior materials and construction, our products are built to last. Plus, you won't find a system that's easier to install. When it comes to finding the best garage wall track system, the best in the market is the Garage Smart and the Rubbermaid Fasttrack. Though the Garage Smart and the Rubbermaid Fasttrack are both excellent garage wall track systems, each of the two has its positives and negatives. After reading the comparison below, you can decide which one is the most appropriate for you. The Garage Smart system has panels that you can set up on your garage walls. You need to buy the accessories separately. The main advantage is that you don't have to worry about the length of your garage wall, and you can either set it up on a section of the wall or across all the walls depending on your need.
Storage
Toolboxes & Organisers
The larger your tool collection gets, the harder it is to keep organized if you don't have a decent storage system in place. After a while, that big toolbox just won't cut it anymore.
Invest in a well-designed garage cabinet system to enjoy the following benefits that come with keeping your tools organized:
you'll spend less time searching for tools (leaving more time to work)

your workspace will be less cluttered
set up your workspace to have the tools you use most close at hand
A garage cabinet system that keeps your screwdrivers, wrenches, hammers, and other tools stored in drawers and behind doors also helps to extend their life. They'll be less exposed to dust, grime, and rust-causing moisture.
Speak to us if you're looking for elite garage storage solutions in Melbourne.
Keep Your Tools Organised
Some of your pricier tools will no doubt include cordless power tools and pneumatic tools (which are driven by compressed air). An expensive air compressor, power generator, and even much higher quality hand tools (which can cost hundreds of dollars each) are also best stored in a secure space to protect your significant investment. A garage cabinet system with locking doors and drawers provides such a storage option.
The comforting peace of mind you'll get knowing your expensive tools are securely stored will be worth the extra expense for this custom feature.
Heavy-duty storage
Say goodbye to the piles of boxes and hundreds of tools scattered around your garage and organize them with Garage Smart. Probably the strongest, sturdiest and most efficient storage system we've created so far, its industrial steel shelving can hold anything, even bags of concrete (yes, that's what we tested it with). Garage Smart is the heavy-duty garage shelving solution that does the heavy work it was designed to do – the only thing that's not heavy is its price tag.
Wall storage
Garage Smart Slatwall panels will get the most out of your garage's storage space. The versatile Slatwall system lets you use hooks, brackets, and other accessories to help organize yard tools, power cords, sports equipment, or just about anything that's able to hang on a wall.
Finish And Protection For Your Garage Walls
Slatwall panels are ideal for organizations, but they also provide a finished look for your garage. The cellular foam PVC construction has a durable finish that protects your walls, and they're easy to clean.
Slatwall Installation
Garage Smart's installation process begins with us cutting the Slatwall panels to accommodate receptacles, conduit pipe, light switches, and any other wall obstructions. To account for any ceiling unevenness or sloping on your garage floor, our installation professionals will also scribe and cut the Slatwall panels. Finishing touches include trim for corners, ends and any gaps between panels and colour-matched screws. The result is a dramatic improvement over the average garage that typically has unfinished drywall.
Overhead storage
If your spring cleaning hasn't happened yet this year, you might be getting anxious about the build-up in your garage. Most use their garage as more than just a parking spot; they use it as a general Storage area. However, this can turn into a cluttered mess in no time. When you have a messy garage, you run the risk of damaging your vehicle. If you have sharp tools or other dangerous items lying around, you can hurt yourself and the people you care about. If you want to have a garage storage system that is smart, practical, and keeps things off the garage floors, take a look at our Overhead Garage Ceiling Storage Systems. You can store your valuable goods in an organized manner – that doesn't take up much space. They are practical and safe, plus they are custom built based on our client's particular needs.
Here are some handy garage storage tips to help maximize your space:
Cabinets
If you want to store items under lock and key, you might want to consider cabinets. You can keep harmful materials out of the hands of your family members, and you can use them as a general storage area for things such as cords, nails, and screws. Cabinet units for your garage come in many varieties to best suit your needs and give you an overall look that you would like. It's an excellent way to increase storage space and keep your garage floors tidy and clean.
Wall Space (Hooks and Pegboards)
Garages are filled with wall space waiting to be used – so use it! You can install shelving units for tools and auto products, plus you can hang more substantial items such as bicycles and garden tools on hooks. When you remove items from the ground, you have way more floor space available. If you want to install a pegboard, you can make it even easier. It helps to place all your items visibly and functionally.
Open all the Boxes and Bins
Don't let them be a mystery anymore. If you have boxes and bins on the ground in your garage and you don't know what's in them, open them up! Sort through as many boxes as you can – throw out what you don't need, organize what you want to keep, and store them in an appropriate place.
Bike Storage
Bike racks for garage use are a great way of saving space and getting rid of clutter. The frustration of trying to get to your bike, toys, storage bins and your car in your tiny garage is all too real. It's also an unnecessary hassle to start your workday commute, your joyride, or your time with the kids. It's time to sort through the clutter. Get those bikes off your evenly spaced and untangled – maybe even off the floor and out of your entryway. Once you try one of these ten simple bike racks for garage use, you'll be kicking yourself for not having a garage bike storage solution sooner.
A garage bike rack is usually a stand, shelve or suspended system that is used to store bikes indoors. Secure garage bike storage is essential as it provides longer shelf-life to your bikes and is mostly built for making indoor storage of bikes convenient in your home, apartment or garage area. This equipment is capable of keeping your storage area clutter-free and organized.
There are many innovative designs and garage bike storage systems available today that are tailored to today's modern lifestyle. When selecting a bicycle rack for yourself, consider the following factors:
The sturdiness of the design

Ease of Use
Quality of the material
Appearance
Bike racks were initially built more for public usage. With time, various garage bike rack systems have become more personalized, and people started inventing shelves for personal storage. When it comes to storing bikes, simpler is better. After all, a long ride is a workout, and when you get home, you want to roll your bike into your garage and get inside for a hot, relaxing shower. The last thing you want is more work.
Types of Bike Storage
Bike Rack
Vertical Wall-Mounted Bike Racks protect your bicycles while eliminating clutter in your building. Bike Racks can be placed in the basement of a condo, or inside a parking garage, facilitating both security and neatness. We build and install various types of floor and wall-mounted bicycle racks on request. We have different styles of bike racks to cover your secure storage needs, including floor-mounted multiple units, wall-mounted and rod-style racks for individual upright cycles, flat-style racks for suspending cycles horizontally and vertical-style hangers. Installing bike storage has the added benefit of encouraging residents to commute by bicycle, thereby promoting public health while decreasing traffic congestion. Maximize your storage space, helping healthier lifestyle choices by selecting the appropriate style of Bike Rack to suit your building's needs.
Cages
We offer lockable mesh style lockers for storage rooms and elevated units for individual parking spots. Metro Compactor also designs, builds and maintains side-hinged safety doors for ground floor depots. We also have linen chutes for mixed-use condo/hotel projects.
Sports Velo Wall Rack
A great compact option to hold one bike horizontally. This highly-rated rack mounts to the wall with just two screws and can be adjusted to fit any bike. It's affordable, lightweight and aesthetically pleasing with its black simplicity, but the best—and perhaps most important part: it is incredibly sturdy! Use wall studs to install the rack properly and hang your bike with confidence, knowing your bike won't take a fall!
Bike Wall Mount Rack Storage Hanger
Here's another simple solution for single bike storage. This wall mounted storage rack holds bikes horizontally and is suitable for a variety of different kinds of bikes. It weighs just more than a pound and a half but can confidently keep a bike that weighs up to 66 pounds. Installation is made easy because the necessary hardware to mount the bike rack on the wall is included in your order.
Bicycle Wall Hanger
This modern-looking wall mount is a storage rack that holds a single bike vertically. The steel frame is outstandingly durable for its small size and contains a variety of styles of bikes. Thoughtful touches to the design mean the hook won't cause wear on the rims of the tires, and you have a place to loop a bike lock for added storage safety. All necessary hardware for installation is included in your order. A great, high quality and affordable option.
Stoneman Sports 2-Bike Storage Rack
No installation or wall mounting required with this freestanding bike rack. It fits two bikes of any style thanks to its adjustable cradles, and it holds up to eighty pounds. The frame is made of solid steel with a steady base making it a durable option. Additional touches like the plastic coating on the cradles mean your bike can be stored without worries of damage or scratches. The black, inconspicuous finish makes it a great addition to any of your storage spaces.
5 Bike Floor Parking Rack
This family-friendly bike stand holds up to five bikes in a variety of different sizes. It is cleverly designed to separate into different parts, so you can store all five bikes together or separate them to be saved individually. The ten-pound, the powdered steel frame will exceed your quality expectations, and you can look forward to this option lasting much longer than its one-year warranty. You'll be delighted in the new accessibility of your bikes without the frustration untangling or heavy lifting!
Saris Cycle Glide Hanging Bike Rack
This bike storage option stores up to four bikes up on the ceiling. It isn't the cheapest option, but if you're looking for a real space-saver, look no further. The Saris Cycle Glide holds a variety of different bikes, up to fifty pounds each. The storage is all one unit, but each rack glides independently of the other so you can easily access the bike of your choice. A bonus to this option is you can buy an additional two gliding racks to hold a total of six bikes. Once you get used to a bit of overhead lifting, you will be blown away by the intelligent design of this storage solution, and delighted by all the extra floor space you've freed up!
Delta Michelangelo Bike Rack
This storage option is a great space saver for garages and even small spaces in your home or apartment. Assembly is a breeze as this rack is designed to lean against the wall with just a tiny chain that attaches at the top for added stability. The Delta Michelangelo bike rack is sturdy, and the stand holds up well on a variety of surfaces, including carpet. The cradles are coated to protect your bike from scuffs and scratches. They are adjustable to fit a range of bikes. The whole thing can hold up to one hundred pounds, making it a simple and straight forward option for your bike storage needs.
Bicycle Storage Lift Hoist
This Storage system operates with hooks and pulleys to hang even your heaviest bike. The bicycle storage list hoist system is sold in a quantity of two—allowing storage for two bikes. Each one is mounted to the ceiling separately. Two coated hooks—one for the handlebars, one for the seat—hold your bike securely without scratching. Buy this storage solution in confidence, knowing the company offers a lifetime warranty. Look forward to convenient storage to get your bikes untangled and off the floor for good, without the frustration of heavy lifting.
Monkey Bars Bike Storage Rack
This long-term storage solution is excellent for getting your bikes untangled and off the floor. The Monkey Bars bike rack holds up to six bicycles, using coated hooks that won't damage the rims. For daily use, this rack best stores a maximum of four bikes so that you can easily access your bike and get on your way. The industrial steel frame mounts onto the wall and is incredibly durable—holding a total of up to 200 pounds.
Heavy Duty Bike Hook
This simple, economical option is a great place to start for those of you ready to get your bike off the ground without committing to one of the fancier and more expensive storage solutions listed above. These tried and true bike hooks mount into either walls or ceilings, giving you the option to store your bike horizontally or vertically. The hooks are surprisingly durable—holding up to 100 pounds—plus, they are coated to protect your bike from scuffs and scratches. If you do eventually decide to purchase one of the other storage options, you can reuse these hooks to hold yard tools, folding chairs, or the garden hose!
Have a look at Garage Storage Solutions
Grassracks Bamboo Bike Rack
If you're looking for a stylish, sturdy and good-looking bike rack for your bicycle, then consider the Rackcycle bamboo bike rack from Grassracks. This one-bike, wall-hanging bike ride is designed to be the most durable and best-looking bike rack on the market. It features an easy-to-mount design, two small hanging hooks, a top-shelf (which can be used to store your wallet, keys, bike tools and other miscellaneous items), and it's designed to hold up to 65 lbs of weight. This bamboo bike ride is both beautiful and good for the environment and would make for an excellent garage bike rack or even something that could be hung in your home, office or condo/apartment.
Overhead & Shelf Storage
Overhead Garage storage systems are an ideal solution for getting your things off of the floor and out of sight. Our patented open corner and T-brace design offer a superior storage experience. The open corners allow you to move things on and off the rack with ease while the T-brace and multi-truss mounting system ensures that the rack won't swing or sway. With everything neatly stored overhead, your garage will achieve the clean, finished look you've always wanted. Gorgeous Garage overhead systems fit your needs, space, and budget.
Over Garage Doors
Place your storage items in all of that unused space on your ceiling or over your garage doors. Overhead garage storage racks will get all of your things off the floor so that you can park your car inside. When you use our overhead garage storage racks, your belongings will be out of sight. With everything up high, there's no need to worry about the safety of your kids and pets.
Specialty Storage Solutions
HEAVY-DUTY STORAGE SOLUTIONS
Our specialty storage racks provide heavy-duty storage solutions for large and bulky items, such as golf bags, firewood, and tires. For more important things that need to be readily accessible, we have open shelving solutions that are wall-mounted and free-standing. Additional garage specialty products include bike racks, a unique foldaway workbench, and LED garage lighting.
OVERHEAD RACKS
Garage Smart's overhead storage racks are the best way to organize and store bulky seasonal items that need to be kept in the garage.
Items like patio furniture, winter tires, storage bins, and sporting equipment can be placed in overhead storage racks to maximize your underutilized garage ceiling space.
Special features:
heavy-gauge steel construction allows up to 600 lbs to be safely supported

powder-coated paint finish for a long life
each rack adjusts in height (up to 45 inches)
2×8, 3×6, 3×8, 4×4, 4×6, and 4×8 (feet) sizes available
storage racks can be adjusted for unique spaces as well

Garage Tool Organiser –
Garage Tool Organizers
Get high-quality tool organizers for your garage storage & shelving system at Garage Smart. Having tools organized is essential for the handyman or hobbyist. If you're a weekend do-it-yourselfer, you know the value of being able to put your hands on the right tool without digging through drawers or looking through stacks of clutter. Many tool organizers have slots for tools that may not be used in your hobby or occupation. At Garage Smart, we custom design tool organizers where every slot and drawer is usable.
As a pioneer and leader in the garage-improvement industry, we offer user-friendly systems that provide organization solutions for any garage. Our tool organizers are designed solely for use in the garage. Their material is sturdy enough to handle heavy tools and projects, and they are easy to keep clean.
Remodel your Garage with GarageSmart Organizers
If you are looking for quality tool organizers for your garage, let us handle the renovation. We can take your old garage and make it like new, or we can take your new garage and outfit it with storage from floor to ceiling. We can even add new light fixtures, power outlets or plumbing, wherever you may need it.Contact our local office for a free consultation to learn how renovating or adding tool organizers to your garage can add value to your home. Our experts will create a storage design that is tailor-made for your space. With our accessories and decorative hardware, you will maximize your garage Storage, while also improving its appearance.
Workshop Storage –
Create a garage workshop
While most homeowners have no interest in setting up a garage workshop, some gearheads and hobbyists will salivate at the opportunity to do so. Turning the garage into a multi-functional space by creating a particular area that provides room to work with your hands will be a motivating factor for some to invest in garage cabinetry. The fact that you can customize your workspace's cabinet system to fit your working needs will be even more of an incentive for these homeowners to buy garage cabinets. Our cabinets are ideal for a garage workshop. This system features sturdy 16 gauge steel construction, a galvanized stainless steel countertop, and specialty options that allow for locks and a sink unit to be added.
Garage Workshop Ideas for Creating a Versatile, Organized Space
If you're someone who spends their spare time on projects involving woodworking, metalworking, and car and electronics repairs, you know the value of a comfortable, dedicated workshop. Carving out such a workspace in the home isn't always easy, however. Space limitations and concerns over privacy and how much noise and mess you'll make can stifle your inspiration to tinker, fix, and create. There are ways to design a versatile garage workspace that lets you enjoy quality time with your creative hobbies. These Garage workshop ideas will get your space organized, looking great, and help to increase your home's value.
Create more available space by using garage wall storage
If you want to create a dedicated work area in the garage, you'll need to have enough space to work with. Single car garages don't provide much free space if you want to park your vehicle inside. Double car garages allow for more room, but free space will also be an issue when you want to park two of your cars in the garage. When it comes to creating more available space in your garage, a Slatwall storage system is one of your best solutions. Using Slatwall panels and accessories that utilize your garage's wall space, you'll be able to clear the clutter off your Garage floor and hang up your belongings. This creates more room for your work area, parking your vehicles, and just generally functioning much more comfortable in the garage.
A durable floor coating can handle your workshop's messes.
Good garage workshop ideas are supposed to make your life easier, and an epoxy floor coating does just that. Garage Smart only uses Floortex™ floor coatings. The best floor coating on the market will transform your garage space with its smooth surface and superior appearance.
Workbenches
Looking for a workbench, but don't have much garage space? Tired of parking your car in the driveway because it doesn't fit in the garage? The Bench Solution is an ideal space-saving solution for your home or garage. This unique wall-mounted foldable workbench provides a large workspace when you need it and conveniently folds away when you don't. It's a great way to save space in your garage while delivering the functionality you need and deserve.
Bench Solution, the foldaway workbench, is durable, safe, and takes no space. It provides the perfect solution for a problem so many of us can relate to—you need a garage workbench or woodworking bench, but don't have much space. This wall-mounted foldaway garage workbench is the unique workbench on the market. Make more efficient use of your garage space, while adding a workspace large enough and strong enough for your heavy-duty projects with a Bench Solution wall-mounted folding workbench.
Offering solid wood tops and steel legs with our signature hammered granite finish, these workbenches can take on heavy-duty jobs. Plus, easy assembly and adjustable features mean you can get right to work. One of the smartest garage workshop ideas: a foldaway workbench
The flexibility and functionality of a foldaway workbench make it one of the smartest garage workshop ideas you can choose. They're ideal for smaller garages or when you want just a little more space in your more massive garage. This wall-mounted workbench easily folds away when it's not needed and is instantly accessible when you do need it. These additional features make the foldaway workbench an essential for any garage workshop:
heavy-duty construction can withstand up to 400 lbs of weight
1.5″ thick solid butcher block work surface that's durable enough to handle the demands placed on it by your work and hobby projects
an ample work surface that's five feet wide and two feet deep
secure double latch safety mechanism prevents the workbench from being lowered unintentionally
Protect your tool investment with garage cabinetry
Longtime hobbyists tend to accumulate extensive tool collections with some expensive pieces. Regardless of whether this is the case for you or your tool collection is still growing, your Slatwall storage space can be complemented with modular or custom-fit garage cabinetry. These storage systems add a sleek, modern look to your area and can be coordinated to fit your garage's decor. We carry five lines of garage cabinetry, all of which are constructed with high-quality materials to ensure they last for many years. Along with keeping your tools organized, garage cabinetry can also keep your valued tools protected with an optional locking feature available on some models.
Make working easier by improving your garage's lighting
Garage workshop projects require you to see exactly what you're doing. Precise attention to detail is needed when you're making measurements, general repairs, saw cuts, and drilling holes. Working safely while you do these things is critical as well, which means you're going to need something most garages lack – good lighting. LED lighting fixture improves your garage's lighting conditions and does it with excellent energy efficiency, using 30% less energy than similar fluorescent lighting. The installation has an unbreakable lens and housing, ensuring a long life, and its bulbs are rated for 94,000 hours. You'll also want to supplement your overhead lighting with good task lighting around your foldaway workbench.
Speak to us if you're looking for garage storage solutions in Sydney.
Some additional garage workshop ideas to consider
The above garage workshop ideas are the essential components for creating a more functional space for your work projects. If you're looking to maximize its workspace potential truly, consider some of these additional garage workshop ideas:
car lifts will increase how much parking space your garage provides, but can also function as a great way to work on the undersides of vehicles for the DIY mechanic

overhead storage racks can be used for bulkier items and storing the leftover or unused lumber from your building projects
improving the insulation features of your garage will reduce noise levels and help during the hotter and colder times of year (we also install garage heating systems)
if you prefer natural light in your work area, many of our garage doors come with window options that let in outside view, as well as insulation options
depending on how much dust and mess will get produced while you're working, consider improving your garage's ventilation system
be mindful of how much electricity your power tools will require and look at upgrading your garage's electrical system (especially for older garages) and adding extra outlets
These efficient, space-saving garage workshop ideas will create a comfortable workspace that makes it easier to enjoy your cherished hobby. Having an organized, clutter-free work area will also help fuel your creativity. Schedule your free consultation with us to begin the exciting process of creating your dream garage workshop!
Storage Cabinets – Discover the benefits of an efficient garage cabinet system
If eliminating your garage clutter and upgrading your garage's appearance with a new cabinet system sounds like an appealing proposition, Garage Smart can help. Whatever your garage cabinet system needs are, one of our five lines of world-class modular and custom-fitted cabinet systems is guaranteed to enhance your garage space.