Is your garage being used as a giant storage closet? Are you needing more space or simply looking to update your curb appeal? Well then, this post is for you! We've compiled four of the most popular and current garage renovation trends.
These top trends can help you form a plan for how you will update and use your garage space. For example, if you're looking to create more space, take note of what storage solutions you need and how to best maximise the space you have. It's also important to note how much the renovation could cost and whether or not it will add value to your home.
Now, that's enough chit-chat – let's get to it!
Garage Renovation Trends To Help Update Your Space
Garages are desirable features for many households. But not all of them are used for the sole purpose of housing vehicles. Many homeowners leave their cars parked in the driveway, freeing up their garages for different purposes. 
If you're considering adding on to your home to create more living space, you might want to first look at your garage. The garage could provide many potential uses ranging from a home gym to a home office and more. 
Below are garage addition and remodelling ideas to make your garage space more than just a place to park your vehicle.
Create A Smarter Garage With Technology
One of the growing trends in both home and garage renovations alike is technology. According to Statista, by 2022, over half of homeowners will have some form of smart technology in their homes.
Ever leave your house and make it halfway to your destination before it dawns on you that you may have forgotten to close the garage door? We certainly have, and this is the exact situation that garage tech was made for.
Nowadays, you can use Wi-Fi-equipped garage doors that allow you to open and close your garage door from anywhere. Not only is this convenient, but it's also more secure. And depending on how smart your garage door is, you can even set a specific time for the door to close and even control alarm systems. Fancy, huh?
Make The Most Of Your Curb Appeal With The Garage Door Design.
Whether you're selling your house or not, curb appeal is huge. More often than not, the garage door is the first thing people see when they approach your home, so why not allow it to be an added element of intrigue?
Sprucing up your garage door can be as simple as dusting it off, trying a new paint colour and adding some hardware. However, if you're looking to do something bold, you can try using different patterns, wood panels or brick on the perimeter to make it more eye-catching.
On the other hand, if you prefer to keep your garage door design on the classic side, consider adding some windows. Windows add a timeless and classy look to the outside of your home, but they also brighten up your internal garage space with a bunch of natural light.
FAQs About Garage Renovation
What Is The Cheapest Way To Finish A Garage Wall?
Shiplap is the perfect choice for garage walls. It's durable, inexpensive, and easy to install. What is this? Unlike drywall, solid wood makes it perfect for securing anything, anywhere, with hooks or nails.
Does Finishing A Garage Add Value?
Get Creative with Extra Space
In fact, according to HomeAdvisor data, the average cost of converting the garage into a finished room costs an average of $11,986, with an 80% return on investment. So, not only does a finished garage provide more living space options, but it also provides substantial growth in home value.
Do You Need Planning Permission To Turn A Garage Into A Room?
Planning permission is not usually required to convert your garage into additional living space for your home, providing the work is internal and does not involve enlarging the building.
What Can I Make With An Old Garage Door Opener?
Small fixes to fences, tree houses, or garden layouts are valuable for home improvement. You can also take a garage door opener into a mini elevator for groceries or small items. This could be helpful for older people living at home.
Can You Reuse Garage Doors?
While it might be tempting to reuse old garage door tracks, it's not recommended. The risk to your garage door, your safety, and your belongings are not worth it.
Maximise The Space You Have
No matter how big your garage is, the key is to maximise the space you have. A great way to maximise space is to use storage shelves or custom organisation framing. By adding shelving and storage to your garage, you're creating space for sports equipment, lawnmowers, tools and, oh yeah, your cars.
Having an organised garage gives you more room to work with now, and when you go to sell, it helps appeal to buyers by showing them the continuation of usable space.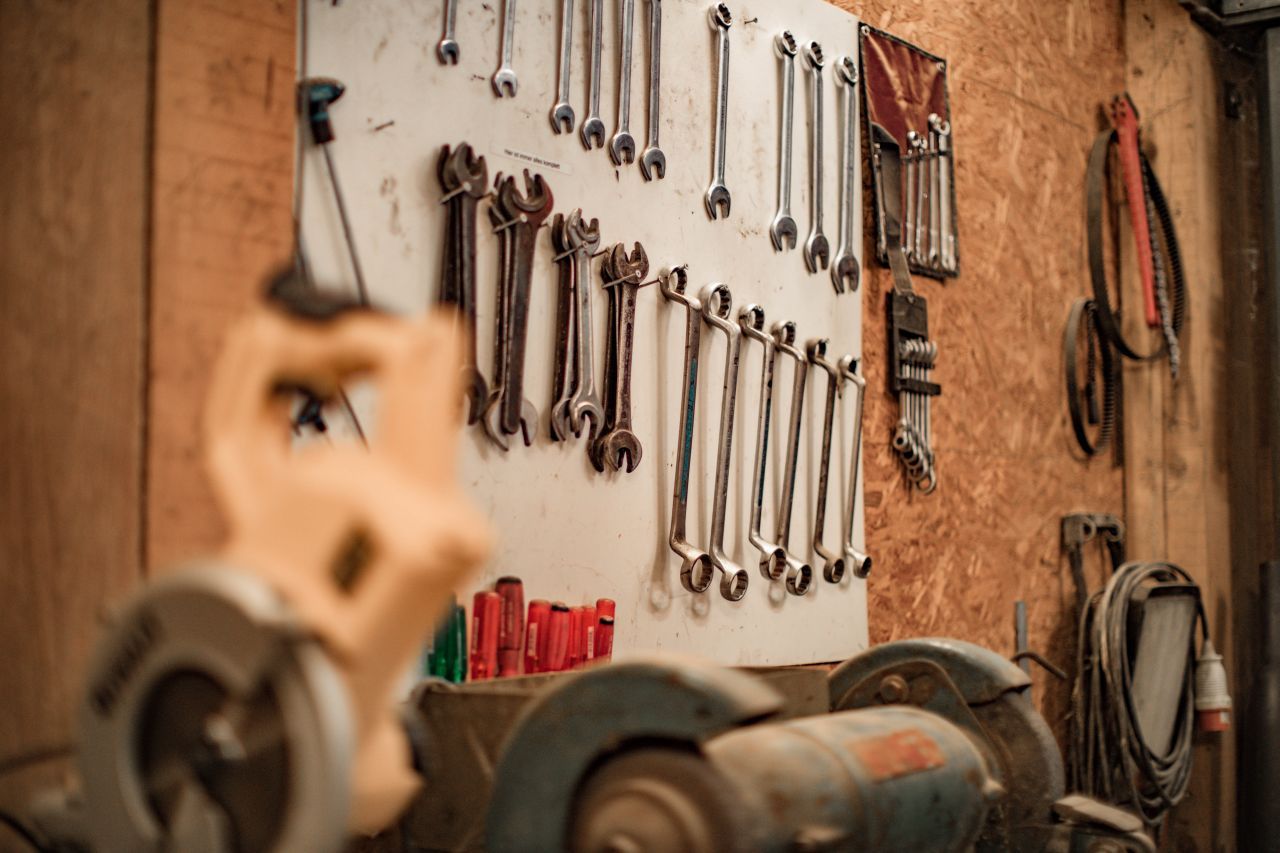 Think Twice Before Converting Your Garage
In most cases, homebuyers are looking for a functional garage space, so it's good to keep in mind that homes with converted garage space may sit on the market longer.
That being said, it can help to have an interior feel. Painted and sealed or tiled floors with finished walls and ceilings give garages a clean look that is attractive to buyers. 
And by adding insulation, you can easily use the space for laundry, a fitness room, workshop or home office space without doing a full conversion or potentially compromising the re-sale value.
Home Office Update
Chances are you've been using your garage as a storage area for things like lawn equipment, tools, unused furniture, and toys.
But, if you've been thinking about starting your own business, you might be able to turn your next garage remodel job into a home office complete with new doors, windows, lights, drywall, floors, and insulation. 
You might even consider replacing your overhead garage door with a couple of French doors to bring in the light and give your new space a little extra charm.
 Personal Gym
Many people resist going to the gym for their daily workouts. The reasons range from inconvenience to fearing judgement from other fitness fanatics. The often hefty membership fees from the boutique and specialty gyms don't help either. 
With these impediments, why not simply turn your garage space into your gym? Some people might argue that creating a home gym is too expensive, but in reality, you only really need a few pieces of equipment to get you started. 
Here are some options we've seen our customers start with after their home gym remodel: 
Padded floor mats

Wall racks for equipment storage

Mirrored wall panels

Designated spaces for weight benches and cardio equipment (treadmills, stairclimbers)
Man Cave
A garage is a perfect space for you to build your dream man cave. This is the perfect space to work on your favourite hobbies and trades without worrying about making a mess or keeping hazardous tools away from your young kids. AND it's out of the house if you get a little rowdy on game days.
Realistically, it doesn't take much to make a man cave. If you have a concrete slab floor, you might want to raise it to add insulation and then seal it. Adding insulation to the walls, then drywall will help keep the warmth in and cold out. 
Then, add in a sofa, some chairs and an entertainment system. Of course, you may want to indulge in some extra luxuries like:
A refrigerator and mini-bar

Extra electrical outlets for entertainment television and games

Cabinets for storage

A bathroom
Outdoor "Addition"
Transform your dated garage into a family-oriented lounge full of personality and colour. Add white rafters and a ceiling to give it an open and spacious feel. You could also equip your outdoor living garage space with accent lighting, a grill suitable for indoor use, and television, of course, for watching games. This is the perfect space to entertain guests after a weekend little league game or while watching Sunday football with your neighbours.
Mudroom 
A mudroom is the secondary entrance of a home and typically includes areas for :
Hanging coats

Storing shoes in cubbies

Hanging bags

A bench to sit on while taking your shoes off

Spaces for sports gear 
If you were to turn your garage into a mudroom, it would take care of many odds and ends that you use daily that require extra space. Storing these essential items in one spot will keep other areas of your home looking tidy while keeping you and your family more organised. You can warm up the area by painting it with a bright colour or rug to make it cozier. 
Media Room / Theater
Another creative garage conversion is a media room. This is a great option for movie buffs and sports fanatics who love watching on the big screen. For instance, you could turn your garage into your theatre, complete with:
Dramatic lighting

A big screen

Upholstered seating

Surround sound
Add in some colourful artwork to keep the space bright when you have nothing playing on the screen.
Play Area 
When you're busy, and you need a way to keep your kids entertained, your garage could make an excellent play area. They can sprawl their toys out and play quietly amongst themselves. 
Add in a solid support beam where you can hang a couple of swings. Invest in a storage system for toys and a soft carpet for them to play on. Add cushioned flooring to handle the rough and tumble play children often partake in. 
When the weather is nice, you can leave the garage door open so your children can play both indoors and outdoors. You can modify your garage to store all their toys without affecting the resale value of your home since garage storage space is desirable.
In-Law Suite
In-law suites garage renovations are extremely popular, especially with the aging baby boomer generation. Are your parents getting older, but you don't want them living in an assisted living facility? A garage turned into a custom in-law suite designed with your loved ones in mind provides them with autonomy and privacy while keeping them close to you.
Creating an in-law suite in a garage space allows you to house them and provide them with a safe space to live while caring for them. Having them live with you (but not live with you) will give you peace of mind, and you can see them whenever you want while they still retain their independence and your privacy. 
This remodel project will require more of an outfit, with insulation, HVAC, windows and doors, flooring, adding plumbing for the bathroom and kitchenette. A reputable general contractor can guide you through your options here. 
Game Room
A game room is similar to a man cave, except it's family-friendly. Most of the same things you'd put into a man cave, you can add to a garage game room, but with more family-friendly games and fewer masculine decorations. 
Throw in some family photos, area rugs, a game-themed decor or some artwork to warm up the space. You now have a space for a family game or movie night.
Guest Room
A two-car garage makes the perfect guest suite. You'll want to install insulation to keep it warm during the winters. Add in a space heater and a lot of blankets. Be sure you check with your city's zoning laws before you make the conversion since some cities prohibit a freestanding structure or building. A guest room could turn your one-family house into a two-family house.
Workshop
If you like to fix and create things, transforming your garage into a tool area or craft room is a great idea. A garage does a perfect workshop for any hobby, whether it be:
Woodworking

Painting

Gardening

Robotics

Crafting
Build yourself a workstation where you'll store all of your tools in an orderly fashion. It's also a great place to leave any unfinished projects undisturbed until you're ready to work on them again. 
So, the next time you work on your project, be it a craft or something you're repairing, you won't have to worry about misplacing your tools or leaving a mess. While you are working on your projects, you'll be getting some fresh air, too.
Music Room
Have you ever heard the term "garage band?" There's a reason why they got that name. Garages provide a great space for you or your kids to practice their music without the rest of the family being bothered (particularly if your garage is detached and your little one is a terrible musician). 
For an attached garage, add soundproofing boards for the walls to keep the noise (uh hem music) from travelling throughout the rest of the house. 
Bedroom
If you have an attached garage or it's close to your house, and there's no current living space above it, you might want to consider building an addition above to create another bedroom. You won't be taking over the garage space, and when you build "up", you can gain that additional square footage in your house. 
Plus, when you add a bedroom, you don't need to worry about plumbing or running pipes. Just be sure it includes a window and a closet, or it wouldn't be considered a bedroom on the property value. 
Hybrid Room
What if you have multiple needs? Then turning your garage into a hybrid room is what you need. For example, you can divide your garage into a few different zones. You can have a laundry nook, a sewing/crafting station and a mudroom/storage area. Use your imagination. 
Utilise vertical storage to maximise the amount of stuff each zone will contain. You can fill each zone up, but they'll remain organised. Also, if it's not within your budget for flooring, you can use interlocking foam tiles (the kinds you see children playing on) for added colour and safety.
Inexpensive Garage Makeover Ideas That Are Cheap to Complete
Is clutter keeping you from parking your car in the garage? Or do your cars take up so much space that there's no place to store your tools and outdoor items? It might be time to tackle some garage makeover ideas.
An adequately organised garage should be able to serve multiple functions. It can be a warehouse, a workshop and even a sanctuary. By learning how to store items like rakes, toolboxes and sporting equipment, you'll free up some much-needed floor space.
The first step is to declutter and figure out how you want the space to function. These DIY garage makeover ideas highlight items you should toss and more practical solutions to put in their place.
Store Tools On Magnetic Storage Panels.
For a cheap garage makeover, all you need is some basic supplies and a ton of creativity. To work safely and efficiently, keep your tools in an accessible, organised space. While toolboxes offer secure storage, it's better to be able to grab (and find) what you need conveniently.
Magnetic storage panels let you openly display your tools on the wall and are incredibly space-saving. The tools are neatly presented, out of the way, and easy to retrieve (not to mention extremely affordable).
Commonly used for kitchen knife storage, these magnetic steel panels can be found at your nearest hardware store. If you're looking for something stronger, Home Depot offers a 12-inch magnetic tool panel. Just hang the panel with a mounting bracket and store your essentials.
Use A Fold-Down Workbench To Save Space.
Rather than taking up space in your garage with an oversized, permanent work table, opt for a space-saving fold-away workbench.
Wall-mounted folding workbenches are great because they:
Provide a place to work

Include wall storage to store tools

Can collapse when not in use
Foldaway workbenches are available for purchase at hardware stores and can be easily completed as a DIY project.
Add Ceiling Hooks For Bike Storage.
Finding space for bikes can be a constant struggle, but you don't have to settle for leaning them against your garage wall.
Put unused ceiling space to use! Bike racks can cost anywhere from $200-$600, while simple ceiling hooks are extremely affordable and easy to implement. This savings is huge when you have a lot of creative garage makeover ideas running through your mind but need to stick to a budget.
Here's what you need:
Purchase heavy-duty, rubber-coated hooks from your local hardware store — they run for about $2 each.

Use a power drill to make holes from the garage ceiling for each hook to twist into.

Hang each bike by one of its wheels, so it hangs vertically.
Craft A DIY Garden Tool Holder.
Does your garage double as a gardening shed? If you're stocked up on shovels, rakes, brooms and more, chances are at some point, they've found a tangled home in the corner of your garage. Utilise wall space to easily organise these essential tools with one simple product: a hose.
Have an extra hose? Cut small pieces — around 7 inches or so — and slit each one down the front with scissors. Nail these vertically on the wall, with the opening facing forward. These make the perfect size holders for lawn and gardening tools and will save your garage floor from clutter.
Hang Overhead Storage Shelves.
Whether you have storage boxes, totes, or crates sprawled on the garage floor, free up space by taking advantage of the ceiling.
Overhead shelves are ideal for infrequently used belongings like large crates, decorations and clothing. Sturdy ceiling-mounted storage units can even hold up to 600 pounds. These range anywhere from $20 to $500, depending on how much storage and strength you need.
Overhead storage pro tip: If you need to access these tools frequently, consider an overhead hoist pulley system that gives you easy access to boxes, kayaks, equipment and tools with the pull of a rope.
Conclusion
By doing most of these projects yourself, you'll save money, no matter your garage project. The only ones on this list you should let the professionals do the dirty work are insulation and HVAC hookup. Everything else, even adding the epoxy, is something you can easily handle over a weekend.
But if you want to make this a dream space, consider hiring a local garage remodeler. They'll work with you to maximise your new space and help you achieve your dream.